Over the past few weeks, you may have seen an increased amount of animal posts coming from the 1909 DIGITAL socials, including—yes—the official 1909 Long Boi competition (we congratulate the winner Hemingway and reiterate our belief that all our competitors are very good bois). While everyone loves a pet social post, the truth is our pets can teach us a lot about digital marketing!
We've had a lot of time to hang out with our pets over the past sixteen months while working all-remote. We'd be remiss if we didn't learn from our canine and feline coworkers!
Here are our top tips and learnings from the critters in our lives…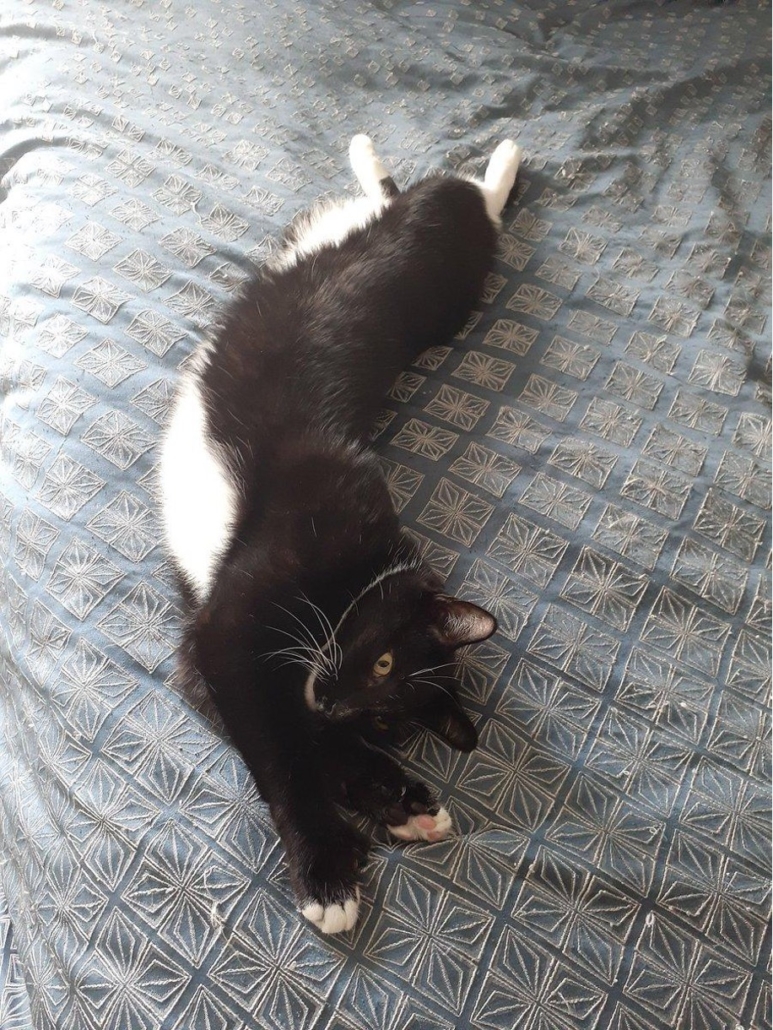 Social media accounts are like puppies or kittens.
Our co-founder Lori Byrd-McDevitt often deploys the motto "social media accounts are like puppies" with clients. While we featured Lori's doggo Cedric a few weeks ago, this catchphrase also applies to Lori's kitty coworkers Scarlett and Oliver.
When clients ask us if they should launch a new social platform, we remind them that every social account needs care and feeding. Different platforms also have different "lifespans"—for example, a few months ago it looked like Clubhouse was going to be the next TikTok, but now some experts believe Clubhouse is on its way out. In the end, it always comes down to intentionality. We discovered with the Chicago School of Musical Arts that a core audience—Chicago Public School principals—were using Twitter more frequently than Instagram. Though it seems odd that a small music school should have a Twitter account, it was worth cross-posting content from other platforms to Twitter because they had a specific audience who almost exclusively on Twitter.
Social media managers also sometimes want to make accounts for pet projects or, in some cases, literal pets—as I learned from my past life working on a historic farm. But pets don't live forever, and it's rare for even cherished programs to outlast the institutions that host them. We discourage clients from making accounts for projects with a "shelf life." We also often advise against program or project-specific handles unless there's an intentional purpose for it. 
No cat—and no brand—is alike.
I am the proud mom of two tuxedo cats who are almost indistinguishable but    have very different personalities. I know firsthand that no two pets are alike. The same is true for social accounts! When we have a new client at 1909 DIGITAL, we begin with a six-week foundational process to help clients articulate the ways that they're different. It sometimes frustrates prospective clients to hear that we don't dive in and start creating content. But we've proven time and again that our process helps us know our clients better and also helps our clients know themselves better. 
Knowing who you are and sticking to it is the second learning we have from kitties.  We always encourage clients to embrace who they are as a brand, and lean into it. Our client Ritron may be a high-quality radio callbox company, but the staff still has a fun side. Their Director of Marketing, Marc, got in on the Bob Ross meme by incorporating a radio callbox into a Bob Ross painting and emailing his sales team. When monoliths were magically appearing in Utah parks, we put a callbox on the monolith! Their audiences loved the monolith and it earned them many likes and comments.
Cats like the person who feeds them best!
If you're the family member who feeds the cat, you may notice the cat hanging around you more. Social media platforms are similar in that they are reciprocal. No matter the platform, you get out of it what you put in (in this case, time and strategy!) 
Instagram debuted Reels in mid-2020. When the feature was first introduced, there were relatively few Reels creators compared to the numbers on Instagram, so those who were building the platform were rewarded within the algorithm. This concept is true across other platforms. Consistency in posting content always pays off. Social media is like anything else—the more time you spend on it, the greater the rewards would be.
Cats are cats—and dogs are dogs. Know your platforms!
Even similar content can have different results depending on where it's placed. During our Christel House Walk Around the World campaign, we found that Facebook favored posts highlighting walkers, Instagram was best for highlighting students, and LinkedIn did best with highlighting corporate sponsors.
Take care to learn the differences between platforms, and apply this to your own content and audiences. Reporting on progress will uncover how each of your audiences differ from platform-to-platform. You can then tailor your content accordingly.
Always travel with your pack!
On any platform, shares can amplify the reach of your post. Lori is the admin behind the influential Museum Social Media Manager's Facebook Group, so we know firsthand from our own community how powerful it is to have a pack. Sometimes, our colleagues will ask for backup—such as asking community members to share and comment on posts that might be getting negative feedback, or liking and sharing pages after periods of pandemic-related low activity. We've also organized cross-institutional campaigns, so we know the value of a good Outreach Kit!
We provide outreach kits and influencer marketing as a service, such as our work with the Akron Museum of Art #InterplayAkron project. We firmly believe that everyone is an influencer within their own circles. We advise our clients on strategic ways of mobilizing their communities. Everyone has supporters who want to help, but sometimes they need a little coordination. A good Outreach Kit ensures that your pack has the help they need to advocate for you.
Cute + quality = peak content
If you've made it this far in this blog post, then thank you—you've helped us prove our overall point. We drew you in with cute photos of cats, but kept you with the information. And this is really what cats teach us about social media: cute posts get clicks, but compelling content leads to conversions. 
If you want to follow our lead and blast your socials with cute animal photos, we applaud that! Who doesn't want to log onto Facebook and immediately see cute animals? But if that's your strategy, make sure there's quality content behind it! Cute gets people on your page, but thoughtful content will help them stay! If you don't like our social pages already, be sure to like us on Facebook, Twitter and LinkedIn. Yes—there will be more cute animals (and rich content!) coming.
https://1909digital.com/wp-content/uploads/2021/07/cat_crop.jpg
549
907
Lori Byrd-McDevitt
/wp-content/uploads/2020/03/1909Logo-horiz.png
Lori Byrd-McDevitt
2021-07-26 23:43:59
2021-07-27 08:21:55
Five Things Cats Can Teach Us About Digital Marketing