How I went from being a college student in Missouri to a digital marketer in Indiana:
My start at 1909 DIGITAL was a serendipitous, "right place, right time" phenomenon. I graduated from the University of Missouri this past May with a degree in Business Administration with an emphasis in Marketing. I felt like a caterpillar breaking free of my cocoon and out into the real world: Corporate America here I come!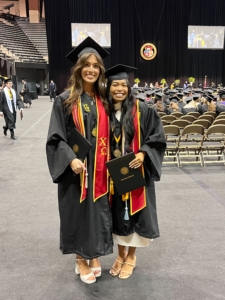 My excitement was quick to wane when I realized how tedious and impersonal the job application process was. Things weren't going anywhere on traditional job search apps like LinkedIn or Indeed after months of searching, so I took matters into my own hands. I knew I wanted to live in Indianapolis–that part was easy. My partner and I (who were long-distance throughout college) had decided Indy would be the first place we'd call home.
"Where am I going to work?" was a more complex question.
I started searching for various agencies in the Indianapolis area, scanning through different websites when I came across the 1909 website. I noticed their personable aesthetic, the land acknowledgment in their website footer, and also their team's broad experience right away, and knew I would be so lucky to have exposure to that type of environment. I immediately knew I wanted to reach out. In the Contact section of their website under "Goals you would like us to help you smash," I wrote "Helping me land my first full-time job!"
To my surprise, it worked!
Meeting the Team
The 1909 team took time out of their very busy schedules to meet with me, were very quick with updates, and even personalized a role for me where I can pursue and practice my design passions as well as explore new opportunities in account management. My role, Digital Account Specialist, was born and my job search was finally over. WOOHOO!
I am excited to bring my experience in web design, social media strategy, and content coordination to the 1909 team, and learn from them as much as I can.
Background
Outside of 1909, I have a passion for the beauty industry and started a side hustle doing event and bridal makeup in my final year of college after years of doing it for friends and family.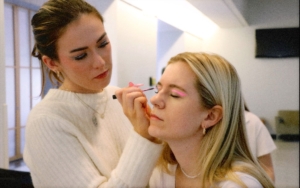 I love entrepreneurship, so to be able to combine business with passion is always a win-win in my book. I was very active in volunteering in my college community, and I am currently searching for opportunities in my new city. I am most passionate about the climate crisis movement, sexual assault awareness, ESL and aiding Hispanic communities, the Black Lives Matter movement, and DEI in general.
I worked at a Mexican restaurant from when I was sixteen up until a week before I started this position and I consider them my second family. They taught me not only everything I know about the Spanish language but also everything I know about Mexican culture and the trials and tribulations their community faces. They will always be a part of me, and they will always be the first place I go when I return home to Louisville, Kentucky!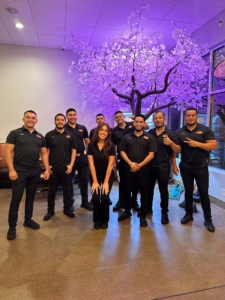 You can usually find me curled up with a blanket and my cat reading a sci-fi fantasy book to whisk me away on weeknights and weekends. If I'm not reading, I'm most definitely watching a documentary or a reality tv show. I love traveling and hope to spend some time abroad in the coming years as well as finish touring all 50 states (I'm on state #38 currently!)
I'm most looking forward to my future with 1909 DIGITAL and getting acquainted with the city of Indianapolis. Both already are starting to feel like home.
Fun Facts
I love tarot cards and frequently do readings for my friends and I whenever we need some introspection and worldly guidance.
I worked in Valencia, Spain for a summer and designed a website in both English and Spanish.
I am a musical theater geek, I listen to Broadway music 75% of the time I'm listening to music. My favorite musical currently is Hadestown.
https://1909digital.com/wp-content/uploads/2023/08/IMG_0054-e1693499964270.jpeg
943
1335
emma
/wp-content/uploads/2020/03/1909Logo-horiz.png
emma
2023-08-31 12:38:10
2023-08-31 12:39:41
Introducing Emma Steedly