Hi! My name is Courtney Krauter and I'm the Intern-turned-teammate here at 1909 DIGITAL!
Having just graduated from IU Bloomington this August, I'm so excited to finally put my skills in Digital Marketing and Graphic Design to use.
HOW'D I GET HERE?
With my concentration in Media Advertising and specialization in Ad Creative, at IU I got a great deal of exposure to powerful messaging and effective design. One of my favorite classes was Advertising Portfolio Workshop. We came up with strong campaigns for different companies and created deliverables that captured the essence of the product/service from a fresh and creative perspective. It got me thinking about how important creativity is to digital marketing. Nobody wants to see the same thing twice. Digital marketing requires fresh ideas at every turn, which is why I love it so much. There are no limits when it comes to advertising and I feel so lucky to be a part of a team that lets me dive into my imagination to bring ideas to fruition.
Other than creative thinking, I'd like to think I also succeed in the execution process (you can definitely double check this with my boss, I won't be offended.) I have about three years of design programming experience under my belt that helps me work efficiently and bring ideas to life almost immediately. I got my start in year two of college when I randomly took an Intro to Photoshop course. (The curriculum said we'd be adding shark bodies to bird heads, duh I'm gonna partake in this.) From there, my curiosity in design rocketed and I started teaching myself how to work in other programs like Adobe Illustrator, Premiere Pro, and AfterEffects. I love that even when you think you have a program down, there's always more to explore and implement into design, whether it's for advertisements or beyond.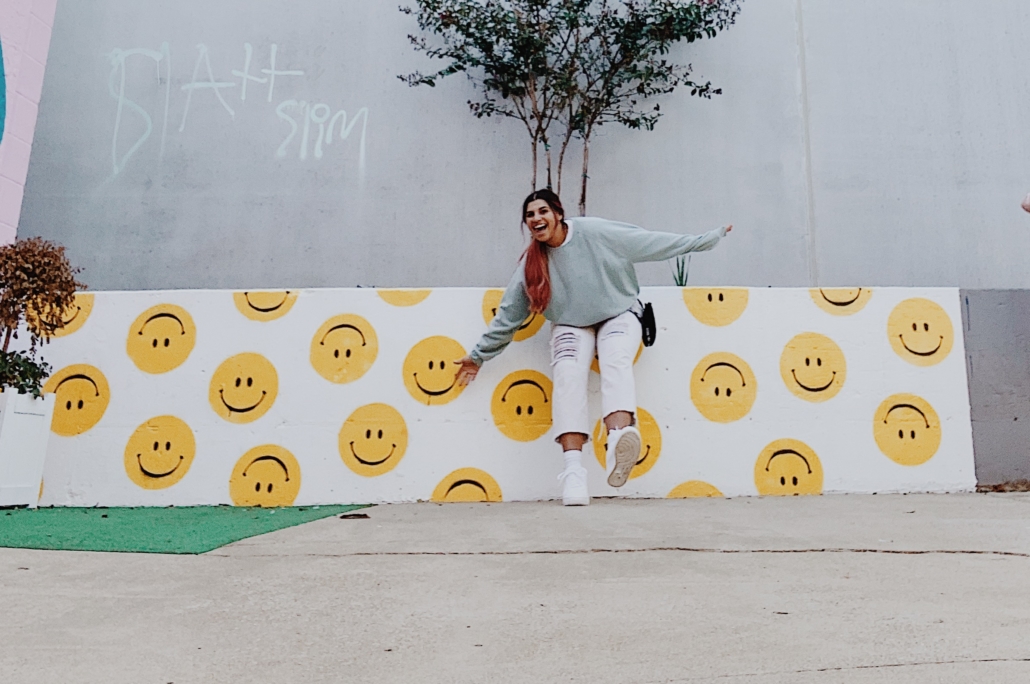 EVERYTHING ELSE.
When I'm not designing ads and optimizing campaigns for 1909 clients, you can find me at my other job at Sun King Spirits, where I bartend and serve! I've always had a passion for meeting people and can talk for hours straight if somebody doesn't stop me. I love being part of a workplace that encourages communication. Other than work, I spend a lot of time with my family and obsess over my adorable nephews. My siblings are my best friends and we geek out on video games and music together. When I find some time for myself, I love perusing the Target aisles for things I definitely don't need and thrift shopping for clothes I definitely don't have any more room for in my closet.
A fun fact about me? I was in an acapella and sketch comedy group at Indiana University. My singing group performed all around campus and the Bloomington community and my comedy group had wacky hour-long shows once a month. Because of this, I have some sketch writing and music composing under my belt! I've always been into singing and acting and I don't see myself stopping post-grad. I'd love to get involved with local Indy theatre. You might just see me onstage performing soon!
So that's all about me in 534 words! I'm so excited to have this opportunity to work with 1909 DIGITAL and grow in my marketing skills with some of the nicest, knowledgeable, and hard working people in the field. (Yeah I'm biased, so what.)
https://1909digital.com/wp-content/uploads/2021/08/Courtney_Krauter.jpeg
744
1057
Lori Byrd-McDevitt
/wp-content/uploads/2020/03/1909Logo-horiz.png
Lori Byrd-McDevitt
2021-08-25 11:46:43
2021-08-25 11:46:43
Intern-turned-Teammate, Living the Dream