Who am I? 
I'm Miranda of Miranda Kerr Consulting LLC and I'm excited to join Team 1909! How did I get here? Let's go way back… As a child, my family took annual trips to Chicago museums as part of our Christmas gift. We especially enjoyed frequent visits to the zoo. Curiosity, learning, and exploring cultural institutions were part of the foundation of my childhood. When I was in high school, my mom saw a newspaper article about a marine biology program for teens at Shedd Aquarium. Soon I was seeing the ocean for the first time, snorkeling, and doing a research project. 
Fast forward ten years later. I was the person leading those trips for Shedd Aquarium, taking learners on snorkeling adventures, and sparking that same curiosity to learn more about the natural world. I spent an amazing decade working for Shedd on every type of learning program: designing field trip labs and tablet app experiences, building online professional development communities for teachers, sharing how cool animals are through a video series for kids, managing paid teen work study opportunities, and more. 
Changes
In early 2020, the Covid pandemic impacted the entire museum industry. I was among the half of the Learning staff that were furloughed, laid off, and downsized. When the shutdowns began, I had a four-month-old and a six-year-old, and we lost access to daycare and in-person learning for a long time. At the same time, my mother was diagnosed with a rare cancer and she ended up having even less time than her doctors predicted. She passed away in November of 2021. My mother was a truly amazing teacher, mother, grandma, and human being, and central to who I am. I'm thankful that my flexible schedule allowed me to take the time I needed to care for her and my children.
I have a strong drive to pursue my own professional interests and use my education and years of experience. Starting my own consulting business allowed me to choose my projects and determine my hours, and I value that autonomy. Miranda Kerr Consulting LLC has given me wonderful opportunities, such as creating a watershed virtual field trip with an aquarium in Washington and a historical preservation virtual field trip with a National Park in Delaware. My digital learning expertise is now shared beyond my hometown of Chicago, without geographic limits. 
Lori Byrd-McDevitt and I have known each other for years through the professional network Museum Computer Network. I'm thrilled to finally be able to work together directly, especially as part of the 1909 team, an agency that shares my values and passion for supporting non-profit and cultural organizations. It's also been wonderful to connect through team meetings and Slack conversations again, after two years of going solo. Bring on the gifs! (If you were wondering, I'm team G-if, pronounced like a G, as in Graphics, for which it stands.) 
When I'm working on projects, I'm the person who asks "Why?," "So what?," "What's the end goal?" I like to know the purpose, outcomes, and audience before we start building any digital tool. Once I have the big picture, I dive in with meticulous attention to detail and view projects from the lens of multiple users.  I'm looking forward to sharing my skills and expertise, and learning from the talented team at 1909 DIGITAL.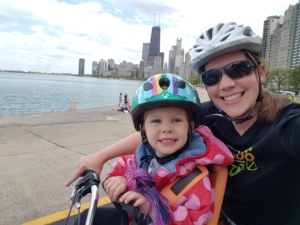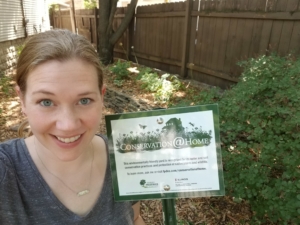 Five Things I'm Passionate About:
Nature

: My undergraduate and master's degrees are in biology, and I love studying the natural world. I feel most at peace in nature, whether walking in a local preserve or hiking in a national park. In the last few years, I've poured my heart into gardening and turned our yard into a native plant garden, earning the

Conservation@Home

certification. 

Animals

: From observing the squirrels in my backyard to snorkeling with whale sharks, animals have always fascinated me. We are members of Lincoln Park Zoo and take frequent family trips to observe everything from penguins to naked mole rats. One of my favorite shows is All Creatures Great and Small. I geek out about animal facts. Did you know sea stars eat by a process called evisceration where they push their stomach out of their mouth to digest externally?

Chicago

: I grew up in the suburbs of Chicago, and have been proud to call the city home for the past 12 years. My husband and I love exploring neighborhoods and trying new restaurants. We celebrate all the city has to offer, visiting museums, biking along the lakeshore, and checking out cultural events.   

Helping Others

: As the beloved Mr. Rogers said, "Look for the helpers." I strive to be one of those helpers, donating books to Chicago Public School libraries, household goods for refugee families, and baby supplies to teen moms. Chicago has so many groups working to make the city a better place, and I love supporting their efforts. Here are just a few,

Refugee One

,

Southside Blooms

,

New Life Centers

, and

Bright Endeavors

. 

My Kids

: I get to share my passions with my daughters. I take them to Chicago museums, for zoo trips, and on bike rides. We read tons of stories, and both of my girls love books.  We express our creative sides, and spend lots of time outside in nature, parks, and our own backyard. I love the cool, brave, kind people they are becoming. 
https://1909digital.com/wp-content/uploads/2022/03/IMG_9136_hq-scaled.jpg
1920
2560
Brittney Mason
/wp-content/uploads/2020/03/1909Logo-horiz.png
Brittney Mason
2022-03-16 09:00:01
2022-03-16 10:58:24
Dive In! Snorkeling to Consulting with Miranda Kerr