If anything is necessary regarding 2021, it's a good reflection session with plenty of focus on the big wins and a healthy discussion about the challenges. It's easy to get hung up on a couple losses, but at 1909 DIGITAL, we know that we always land in the best place.
Not landing a project we know we would have excelled at? There's usually a bigger, better, more "fit-to-our-expertise" project knocking down our door the next week. In fact, this has happened frequently! In this blog, we'll share fun facts from the year, some stats and wins from our clients, and our thoughts about the rollercoaster that was 2021.
In November we took the time to get our whole team together to reflect on our past year. We gathered at the Peace Learning Center, a local nonprofit which facilitates community learning to act as a catalyst for peace, equity, and justice. They also happen to be a 1909 client! Their beautiful office and grounds are located in Eagle Creek in Indianapolis—the perfect space for our small gathering. The serene, natural surroundings provided a wonderful spot for our team to brainstorm and reflect. We are so fortunate to have partners like the Peace Learning Center, because they are willing to share their spaces and resources to do good work for our community.
APPRECIATING OUR TEAM MEMBERS
We celebrated our team members individually during the retreat by handing out Hot Wheels "trophies" and sharing the amazing things each individual has brought to the 1909 team this year. Each Hot Wheels car subtly represented a distinct skill or interest for each team member. It's always fun to reflect on the breadth of experience and depth of expertise we rely on daily and don't necessarily appreciate on a regular basis. 
By just being thoughtful, a 99 cent purchase—Hot Wheels are very budget friendly!—provided the morale boost our team needed!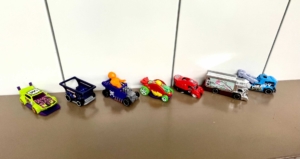 REFLECTING
We accomplished BIG wins in 2021. Despite a worldwide pandemic, our team and our list of incredible clients has continued to grow. In contrast, there were a number of prospective projects that encouraged us to stretch our skill sets, networks, and work process. The experience and confidence we gained simply from the opportunity to pitch these projects was invaluable to our leadership team. While we didn't secure these next-level contracts, we were often the second choice, with valid reasons that another agency was selected. It showed us that we can stand next to the extremely well-resourced, larger agencies and are absolutely capable of the "big" stuff. 
Speaking of the "big" stuff, it's easy to forget that we launched a whole second company this year! TrustEngine is a brain trust of vetted marketers, developers, and creatives who we know, love, and are confident will deliver on project goals without breaking the bank. TrustEngine helped us streamline our core 1909 team to focus on strategy and optimization. This allows our wider network to support implementation and delivery work. We always say, "There's no such thing as competition," and we stand by it. This networked-centered venture means we can spread the love when work comes our way, while still supporting both our clients and our trusted vendors with our project management and processes. 
We are committed to seeing everyone—team members, our network, and our clients—excel in the future.

Are you a numbers person? Take a look at this wrap-up from 2021:
Fun Facts:
✔️ 3 co-owners full-time
✔️ 6 full-time team members
✔️ Over 25 clients from 2020-2021
✔️ 6 Preferred Partners
✔️ Launched a second business—TrustEngine! 
✔️ 5 TrustEngine Clients
✔️ 40+ Trusted Freelancers
Big Wins:
⭐ $550,000 raised in three months for a local nonprofit's capital campaign
⭐ Helped a long term client increase sales by 25% YOY with less staff
⭐ Completed tech stack overhauls and data migrations for two essential community-centered nonprofits
⭐ Selected to run a facilitated live webinar on Social Media Strategy for an online resource library focused on small museums
⭐ Got a music school back to pre-pandemic registration levels at a higher margin
⭐ Clients returned for additional trainings, renewed contracts, and kind referrals & recommendations
⭐ Developed more processes and streamlined our own work to better serve our clients and our business
PLANS FOR 2022
If 2021 was so great, where do we go from here? Only awesome things are in our future. We're excited to start the year off with clients we've worked with since the beginning, clients we've found and continue to build strong relationships with, and new clients who share our values and make an impact in their communities!

Here are some of our hopes and internal goals for the new year:
🎉Continuing to build out a new "Clients" page on our website
🎉Sharing case studies about all of our extraordinary client projects
🎉Bringing on another team member to support TrustEngine
🎉Networking in person again.—is this a long shot?
🎉Adding more Preferred Partners from our extensive, skilled community of digital marketing friends
Cheers to 2021, our fabulous team, the impact we've been proud to make, and the partnerships we've developed along the way!
https://1909digital.com/wp-content/uploads/2022/01/057A7058-2-scaled.jpg
1707
2560
Brittney Mason
/wp-content/uploads/2020/03/1909Logo-horiz.png
Brittney Mason
2022-01-04 09:32:26
2022-01-05 15:30:55
RETREAT & REFLECT: 2021'S BIG WINS AND LEARNINGS