Organization & Project Management
Hi! I'm Kelly, the Digital Project Manager at 1909.
I've been responsible for a wide variety of tasks in my current and previous roles. I've scheduled meetings, ordered supplies, created and implemented processes, invoiced, planned events and team outings, purchased incentives, set up systems access, and the list goes on. This requires me to stay organized and keep very detailed notes.
Not unlike in my personal life, I'm able to juggle many things at once and incorporate my love of lists and all things organization. I absolutely love planning and executing parties, making lists for myself, and I could watch episodes of "Get Organized with The Home Edit" or "Tidying Up with Marie Kondo" all day. It's SO satisfying to see the finished projects!
A well-organized plan is my love language.
Work From Home or Anywhere
Initially, I struggled with working from home. Although it saved me multiple hours a week in commute time, I missed the social aspect. My co-workers at 1909 do a really great job of staying connected and being part of each other's lives, even if it's just to send a quick slack message to say hi, share a funny meme we can all laugh at, or post pictures of their kids. I realized that with the flexibility–and unlimited PTO–I have at 1909 DIGITAL, I could work toward some goals of my own!
One of my ultimate personal goals has always been to travel as much as possible. Life is just so short, and you only get one shot. Since the pandemic forced so many of us to work remotely, I thought, "If I can work from home… couldn't that actually be from anywhere?"
Turns out, yes! Yes, it can.
"Working from home" can easily morph into an experience of working from an Airbnb, hotel, RV, or boat! Just last month, I was able to work from both Maine and Florida. In Maine, I was able to visit family, explore a local wildlife park, eat some amazing seafood, and sample a local winery. With friends in tow, I went to the beach, an amusement park, and finally to a Pirate dinner adventure show in Florida!
I feel so lucky to be able to blend my work and home life into location independence, allowing me to take more time for myself, fit in hobbies, health, and mental wellness. I ultimately have more time for friends and family, to see the world, and take my job with me on the road.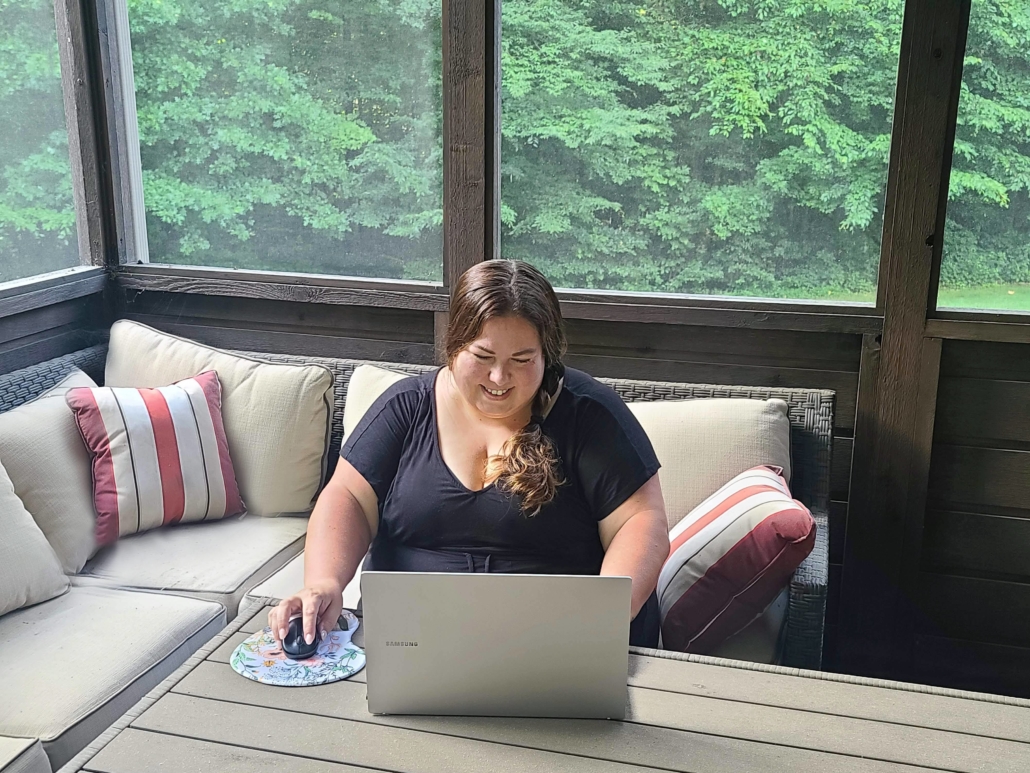 Flexible & Agile Schedule
Working while traveling requires a lot of planning ahead and organization to accomplish everything successfully. Utilizing our flexible and agile schedule at 1909 has also given me more time to make the most of my travels. Being able to combine my love of traveling and organization into my work life, I'm able to have a truly great work-life balance.
I want to share with you my 10 best tips for working while traveling. If your employer offers remote work and you can take your laptop and go, I highly suggest getting out, even for a solo trip, and enjoying yourself! Becoming a "digital nomad" can be easy if you follow these tips below.
10 Best Tips for Working from Anywhere
Travel with people who understand that you'll be working.
Take time to organize your blended schedule.
Communicate your schedule clearly to your team and clients.
Research Wi-fi accessibility–or just invest in a hotspot so you can always work from anywhere no matter what.
Account for time changes.
Pack thoroughly, but don't overcomplicate things.
Bring noise-canceling headphones. Nothing is worse than not being able to concentrate on your call because your surroundings are too noisy.
Don't be the driver! Offline work that can be synced up later can be done while being a passenger in a car or plane.
Don't be afraid to work at night. (You can schedule almost anything on a delayed send!)
Create a space in your temporary home that acts like an office.
https://1909digital.com/wp-content/uploads/2022/08/20220805_014927-3-scaled.jpg
1333
2560
Kelly Musick
/wp-content/uploads/2020/03/1909Logo-horiz.png
Kelly Musick
2022-08-05 14:54:33
2022-08-08 10:44:32
Being an Occasional Digital Nomad - 10 Tips to Work While Traveling